WALFRIDO GARCIA
Walfrido Garcia, son of artist Edgardo Garcia, learned at an early age to use his God-given talent to evoke beautiful emotions by translating visions from his imagination to a permanent form. Through years of apprenticeship and formal art education, he quickly learned how to manipulate light, form, color and detail. He has been teaching art since the age of seventeen, and he is a widely sought after instructor/demonstrator in the Bay Area. In his mid-twenties, the future looks very promising for this talented man.
Having spent most his life near the ocean, he combines his two most cherished activities: surfing and painting. Through his first-hand knowledge of the sea, he is able to capture its realism while his style emphasizes its romance, mystery and grandeur. Walfrido divides his time between Hawaii and California.
 Considering himself a "romantic realist," Walfrido uses an unusual style that pays close attention to the delicacies of light and color. Light is the most influential element in his work, reflecting the artist's relationship with God. When viewing his work, one gets swept away to a place where the light caresses the gentle, rolling waves as they greet the powder-soft sand.
 Walfrido uses his skills as a photographer and video-grapher to aid in his creative pursuits. In the first stages of his work, Garcia forms the relationship between light, color and shapes. The next colors are glazed on with meticulous brush strokes to form details. When all is done, the highlights are applied to give the work a special glow. This makes his work appealing to the connoisseur as well as the first-time buyer.  
As of August 2003 Walfrido has his own TV show in Hawaii, "Art Made Easy".
  

Disney

 

 

Traditional
                                                Originals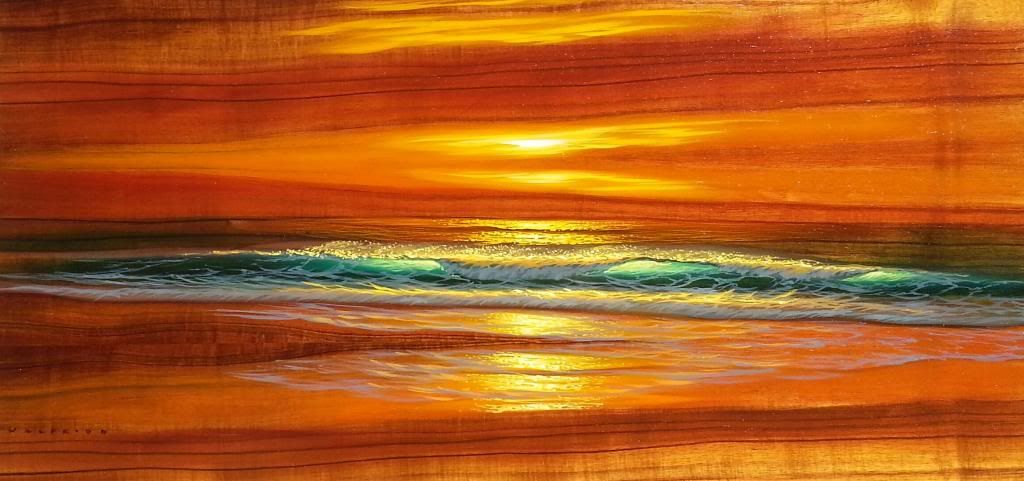 SOME FACTS ABOUT WALFRIDO
·Born on November 23, 1966  
·Birthplace was in Manila, Philippines  
·Emigrated to the US in 1972  
·Started painting at the age of 14 
·Served as an apprentice for his father Edgardo F. Garcia (4 Years) 
ܧst Gallery presentation: Carmel, CA at the age of 17 
·Educated at Ohione Jr. College/San Jose State in California  
·Major influences: Edgardo F. Garcia, Albert Beirdstat, Thomas Cole, Fredrich Church, The Hudson River school. Early California 
·Style: Considers himself to be '"Romantic Realist"  
·Subject Matter: Land & Sea 
ܧst Solo show: 1993, Wyland Galleries Maui - SOLD OUT Exhibition  
·Exhibited in 250 Solo and Group exhibitions throughout U.S. and Japan Traveled to: Japan, Australia, New Zealand, Antarctica, Europe, Philippines and USA seeking out inspirational subject matter  
·Currently represented in over 40 galleries 
·Work is collected in corporate and private collections throughout the world  
·Hobbies: Museums, Photography, Surfing, Golfing and playing Music  
·Recognized as a "Master" of seascape art and is one of Hawaii's leading artists 
 Goal: To capture and glorify as much of the worlds most inspiring places 
 Personal Statement: "Its an honor and a great feeling knowing that the work I do will inspire my generation and those to come."